Landline phone often referred as main-phone or home phone is a phone that uses metal wire or an optical fiber telephone line for transmission. The cables are buried in the ground and there poles through which the landline phone is connected to our home. The phone majorly used prior the invention of wireless or mobile phone.
Landline telephone, Landline bill, Landline bill online payment, Khatriji E gift card, Khatriji, Khatriji Website,
These landline phones are yet widely used for having consistent and high-quality voice transmissions, which indeed makes each phone call crystal clear. Moreover, the landline phone is a low maintenance device; in addition, it does not need any upgrade nor needs electricity except the cordless phone.
But one of the most tedious tasks that we face nowadays is reaching customer service center office for paying the landline bill. We are all tied up with something on other works, either it is the job or something else at home. Taking out time and reaching the operator office during working hours is extremely tiresome, especially when you realize that you have to pass through a long queue to pay your landline bill. Sometimes, it may even happen that you are too occupied with other things that you forget the deadline date to  pay the bill, all you are left is to pay extra for the late payment.
In nutshell, you are frustrated with such unexpected but necessary task as your regular routine is affected only for paying your landline bill. In order to overcome these hassles, choose Khatriji.
Why pay through Khatriji?
Khatriji is one-stop solution to pay your landline bill online from anywhere. It provides services for Airtel, BSNL, MTNL, Tata Docomo and other operators. It is one of the most secured and reliable platform for Landline Bill Payment. The user can pay the broadband bill via Khatriji wallet or directly through Visa Card, Master Card and Net banking as per the convenience.
Below are the steps to your Landline Bill Payment online through Khatriji:
Select your Landline Operator and Enter your Landline Number.
Write in the amount as mentioned in the bill.
Press the "Proceed to Pay Bill" button. Your service provider will take two working days to consider bill paid in their accounts.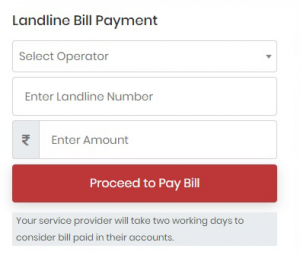 Now, if you have Khatriji's gift card with you then you can write Khatriji gift card number and apply.
If do not have the card, then there are multiple payment option given, you can choose as per your convenience.
If you have not yet logged in then press "Login to Proceed Transaction", mention the username and password, then click "Proceed for Payment".
Skip the above step if you are already logged in, then just press "Proceed for Payment" button. You can also use your Khatriji wallet amount for the same.
Now, the online payment of landline telephone bill is done with us.
Tags: khatriji, Khatriji E-Gift Card, Khatriji website, Landline bill, Landline bill online payment, Landline telephone

10

Seconds Wait for Like Page