Khatriji is India's one of the online digital service providing platform through which all the recharges, bill payments and products purchase services can be made easily. Khatriji actually forms a digital bridge between consumers and companies through quick recharge and bill payment facility with no extra expense for the online transactions.Khatriji is also a self-earning and shopping platform for consumers who desire to be a pioneer in e-shopping industry with few of its products.
The days have passed when we were physically reaching the retailer's office, sparing time from our regular activities mainly for recharging or paying bills. The current online scenario has lessened these troubles. Khatriji is also one-stop online portal from where all your recharges and bill payment can be done quickly online with no extra costs.
Online Recharge and Bill Payments
Khatriji provides online recharge facility for mobile, DTH, data card through Mobile Recharge, DTH Recharge, Data card Recharge. While consumer's household bills can be paid online through us via Broadband Bill Payment, Landline Bill Payment, Electricity Bill Payment, Gas Bill Payment, Postpaid Mobile Bill Payment, Postpaid Data card Bill Payment. Khatriji also features an Insurance Premium Payment facility from where you can pay your insurance premium online. In this rapid growing world, Khatriji takes an account of these online policies under one roof and can be of great help to mankind.
You can move your mouse tab on different recharges and bill payment services at Khatriji's website.
You can also view and decide the plans of operator prior making the payment for recharge or utility bills as per your convenience. For instant payment, you just have to choose the operator for which you are to recharge or pay the bill along with the state from where you belong and also your telephone numbers.
Khatriji's Products with its benefits
Khatriji includes products like Khatriji Mobile Radiation Protection Chip to protect against the harmful radiation coming from mobile phones. While Khatriji's Bio-Energy Neodymium Gold Card helps to improve the blood circulation of our body.
Khatriji's Gift Card
Gift Card is more beneficial side of Khatriji to keep a note of. Gift Card allows special access, it is something special you can choose to gift someone and attract him/her to Khatriji. Khatriji is a prepaid payment card with specific amount of money which can be used to pay for the product purchased from Khatriji. The money can vary from minimum to maximum loading amount, which you can select from the given options. The user can then use Gift Card for the payment. So, the Gift Card holder is advantageous here.
Khatriji's Payment Mode Options & Security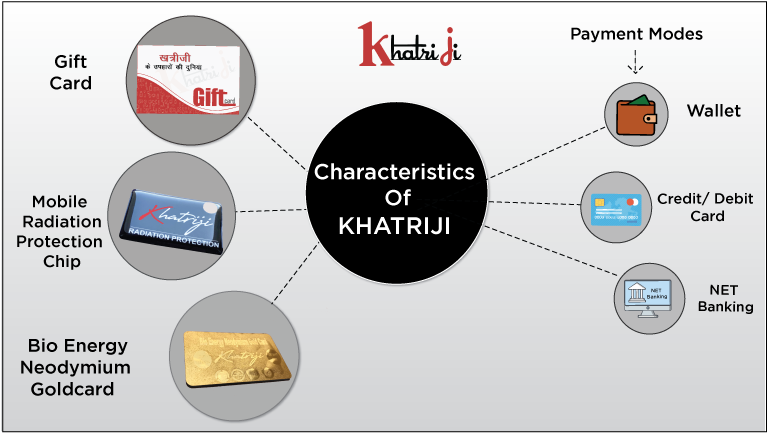 Khatriji offers various payment options not only for the recharge facility but also for the bill payment services. You can pay through your Credit Card, Debit Card, Net banking, Visa Card, MasterCard – anything that is available with you at the time of bill payment or recharge. You can even use your Khatriji wallet, if there is any money loaded in it for the same. All your money transaction will be handled through the gateways of chosen banks for the security purpose.
However, there is always a question that lingers in user's mind while making an online payment regarding the data security.  You can rely upon Khatriji for keeping your personal data confidential such as debit card or credit card details, date of birth, email id, password and much more.
Besides all these amenities, Khatriji is more of a business-oriented firm or rather it is a medium through which one can start his own venture with few of the Khatriji's policies like Refer & Earn facility, tree income, repurchase income, and cashback services.
Let's describe about Khatriji from the earning point of view.
Khatriji's Earning Income Facility
Whenever the user registers himself/herself with Khatriji, purchases Khatriji's product and then joins any of the tree using Khatriji's product key upon his/her request, then the user is named Khatriji's Skyomie. The Skyomie can expand the tree by referring to his friends and families and if any of them buys Khatriji's product then in that case, Skyomie is further benefited with Referral income also. So, a tree has been developed and Skyomie has the advantage of earning money from various users whom he/she referred. This entire process is called Make Your Own Money Tree. Now, if the Skyomie purchase the same product again from Khatriji then he/she is benefited with Re-Purchase income as well. Plus, there is cashback being offered after every mobile and DTH recharge, which in turn will also increase your income to an extent.
Thus, Khatriji's skyomie is able to begin earning more and also can think of starting up a new business venture through facilities like Referral Income, Tree Income, Re-Purchase Income and Cashback.
To summarize, Khatriji provides multiple services to consumers along with its self-earning facility.
Read More
Tags: Khatriji Bio Energy Neodymium Gold Card, Khatriji E-Gift Card, Khatriji Products, Landline Bill Payment, online bill payment, Online Recharge, skyomie

10

Seconds Wait for Like Page