Over the few years, smart phones have almost revolutionized our lives with which we communicate. Apart from calling, e-mailing, texting along with booking cab rides, comparing product reviews and prices, reading newspaper, watching movies, listening music, playing games and participate in social media as well.
Suppose if you are having some important conversation with your office colleague over the phone and you realize that your mobile recharge has expired. Now, you are just stuck up as there is no workstation around to recharge your phone, i.e. your location is bit far from the local area as you are on vacation.
Khatriji is here to help you out in such condition. You can recharge your mobile phone online instantly with us. We are a platform that provides services for Airtel, Idea, BSNL, Jio, Vodafone, etc. Khatriji features online mobile recharge for prepaid services. Thus, you can not only recharge your mobile but also for your friends and family online at anytime from anywhere whether you are at home, restaurant, office or on vacation.
Khatriji offers its services all over India and also gives you various payment options. You can have online recharging by Debit Card, Net Banking, Visa Card and MasterCard & Khatriji wallet with ease. With the money loaded in your Khatriji wallet, it will take a few seconds to make Mobile recharge.
The process of online recharge is as follows:
Enter your phone number.
Select your network operator and the circle from where you belong.
Fill in the amount you want to recharge or view the online recharge plans designed.
Now click "Proceed to Recharge" to make the online recharge payment.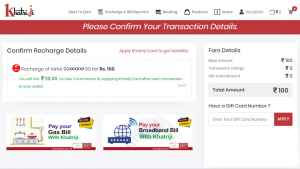 As you follow the above step, above image box appears on your screen.
This is not all, you even get the surprising cashback on each and every online mobile recharge as offered by the service providers.
You can write your gift card number, if you have and then Apply.
If you have not yet logged in then click "Login to Proceed Transaction", mention your user name and password, then click "Proceed for Payment"
Skip the above step if you are already logged in, then just press the "Proceed for Payment" button.
You can use your Khatriji wallet amount if there is any, for the recharge as well.
Now your mobile recharge is done and you are also benefited with the cashback from Khatriji.
Tags: Instant Mobile Recharge, khatriji, Khatriji website, khatriji.in, Online Mobile Recharge, Several Payment Modes, Surprise Cashback Offers

10

Seconds Wait for Like Page