Despite having same purpose and goal, there are some difference between e-commerce and traditional commerce. As the technology developed, the traditional way of commerce changed and E-commerce became more popular. We saw a significant shift in all walks of life. Some reality became virtual, people mindset is shifting from traditional shopping to online ones. So undoubtedly, there are chances that high street shops are on the verge of decline. But the question here is: Will the online shopping have the ability to gain much popularity and make physical retail store obsolete in the future? Or will the E-commerce derail the traditional retail structure? Will E–commerce overtake traditional retail sector?
With all such thoughts in mind, let us understand the difference between eCommerce and retail stores.
Differences between E-commerce and Retail Stores
Spend quality time, socialize, discuss, get inspiration and buy the product at the end of the day…This is the ultimate goal of the retailers from the customers. At the same time, E-commerce has the same buying and selling concept, but with different vision. Instead of socializing or discussing with others, one can buy the product based on his/her decision.
The major difference is the accessibility: Say for example, one has to leave the house or work and physically reach the store. He/she has to visit the store during retail store's working hours. While E-commerce are available 24X7 for anyone to access. No matter if it is your holiday or working day; you can buy the product at anytime.
Besides accessibility, the difference between the two is employees and availability of the products. You can touch and feel the product at retail store, plus, no chance to wait for product shipment. However, there are times when the employee of the retail store force you to buy the product as per store's criteria or some other reason; which can never happen in E-commerce store.
When you look at the E-commerce site, you get confused regarding the product requirement. You desire to ask questions through chat message or customer support; but there is no one to answer. While there is always an executive at the retail store to revert back and resolve your queries.
eCommerce does take lot of time for the shipment and delivery of your ordered product, but no one likes to wait. While customers leave the retail store with shopping bags in their hands.
Change in Consumer Behaviour Towards Retail Technology
With such consequences, we see vast change in customer behaviour pattern regarding the shopping preferences. There is a class yet preferring to buy from traditional retail store while the other one is using online platforms. It is not a surprise to say that brick-and-mortal stores were created for the shoppers in 20th century. While the current modern eCommerce is meant to address the needs of the 21st century. Actually, having only brick and mortar store is unfit for 21st century. The original battle is between brick and click i.e., E-commerce vs retail in India or the future of retail technology.
As per AIMS Institute, in 2009, the Indian e-commerce industry achieved approximately $3.8 billion in revenue. By 2012, that number was $9.5 billion. It is no surprise that, according to market research company Euromonitor, e-commerce is projected to become the largest retail channel in the world by 2021. Unless, the retail store adapt to the online medium, they may feel being left behind. Street version of the shop may close but the online presence would remain. So is the reason that, many big companies like Tata, Aditya Birla, Future Group and Reliance have expanded themselves into online version.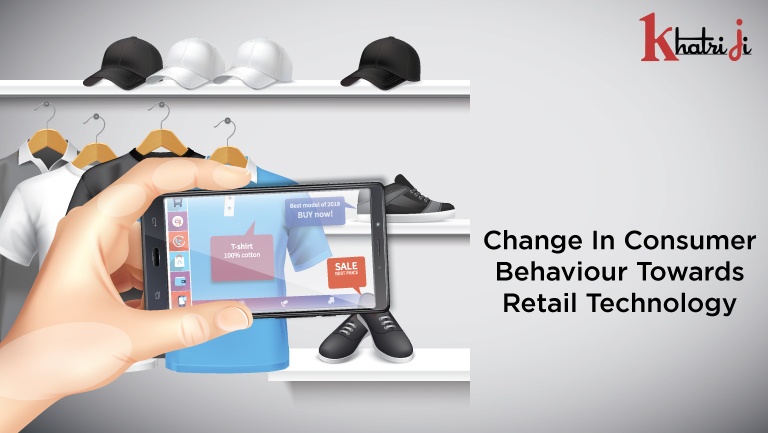 People nowadays, have hectic life. But, does this mean that the retail stores should adapt or migrate to digitization? It so happened during the Covid-19 pandemic, customers had no option then to choose digital medium. People now prefer contactless payment; be it bill payment, product purchase or daily online recharge. Khatriji is one such online medium offering recharge of mobile, DTH or datacard and bill payment for landline, broadband, electricity, gas pipeline and insurance premium along with product purchase. This led to an evolution in future of retail after pandemic.
Nonetheless, we all are aware how people chose street vendors and brick and mortar stores to purchase products during Covid-19 pandemic, in order to avoid the rush at malls. Since all the shopping centre and plaza remained closed in India, the small vendors were benefitted. Ironically, it is e-commerce that is helping many small businesses survive by providing them with access to a global market. Flipkart, Amazon, Myntra, and many other online medium are the best examples in this regard.
Current Scenario of retail in India
The persistence advance of technology and development in artificial intelligence will make eCommerce progress; and become more customer-centric with personalized assistance. But keeping such scenario in mind, there is a lingering question: Will online shopping replace traditional shopping?  Will E–commerce overtake traditional retail sector?
Offline retailers have begun making noise about the low prices being offered online. They have asked the government to intervene in their price war with online merchants. They do not have to pay VAT as the government is yet to make eCommerce laws in India. Moreover; discount coupons, referral and reward point with few more benefits have attracted customers to switch to e-commerce in India. Plus, customers have become smart and sharp shoppers. They do thorough research regarding the deals and prices for the product they want to purchase.
Finally, to answer the main question — Will E–commerce overtake traditional retail sector?
However, when it comes to distinguishing or understanding the term 'derail' or 'overtake', it is a tough to answer. Think of buying your daily needs like milk or bread-butter. You won't be ordering them online, right!!!
Something should remain on store shelves.
So, even if the number of e-commerce website will grow every year, the traditional shopping will still run understanding our necessities. It is like no matter how many retail technologies change, the basic principle remains unchanged. It is the relationship with the customer that makes the customer return again and again, whether it the brick store or the virtual global market.
Read More
Tags: change in customer behaviour, Ecommerce, ecommerce vs retail in india, future of retail after pandemic, future of retail technology, retail store, will online shopping replace traditional shopping

10

Seconds Wait for Like Page