'Make in India' and 'Made in India' is an ongoing current topic to debate. There is lot of confusion in regards to both their differences. All of us think them as same concept, but actually they are two different programs with different aspects. Discussing them in detail will help us expand our vision on both these initiatives by the government. This blog will make you understand the facts of these initiatives and also will make us realize, Make in India or Made in India: What is forming the Economy?
Difference between Make in India and Made in India
Primarily, 'Make in India' is an initiative launched by Prime Minister Narendra Modi in 2014. This was mainly to cope up with India's stagnate economy. It also meant to give Indian economy a boost when NDA government took over the reins of the Indian Parliament. It is basically an open call for foreign investors to come and set up manufacturing firms in India. The objectives of Make in India points toward making India an alluring destination for the foreign investors from all over the world. It also means to build  sound business by eliminating various trade barriers in foreign policies. The foreign investors urged to use India's untapped manufacturing potential through Foreign Direct Investment (FDI).  This led many foreign companies to make huge investments and increased employment in the nation. This is what is Make in India.
While 'Made in India' completely differs from Make in India. Made in India is to give identity to Indian manufactured products. It does not attract any foreign investors and believes in utilizing every possible resource of the nation. It urges homegrown makers to produce goods using land, labor, capital, entrepreneurship, and technology; thereby increasing employment opportunities. If this program is promoted effectively, then it will recognize Indian local brands. It will furnish the homegrown makers with a platform to compete with foreign products and manufacture such product meeting the standard norms.
Let's understand the facts about Make in India or Made in India: What is forming the Economy?
Benefits from Make in India and Made in India
Despite being different in multiple regards, both the initiatives have common benefit, i.e., they help create jobs for the Indian masses along with development of country's domestic areas.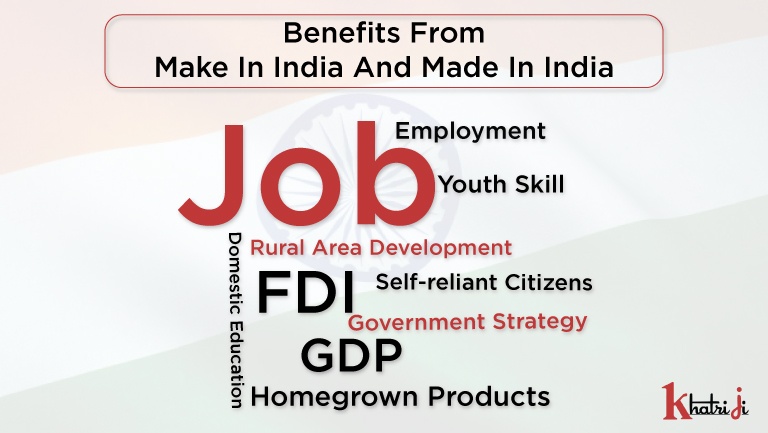 Make in India will have its major impact on the India's GDP. With foreign investment through Make in India initiative, there will be humongous flow of income and ultimately boosting the GDP of Indian economy. The FDI under this program will strengthen the rupee value against the domination of American dollar, which is one of the major Make in India scheme benefit. Since the foreign investing firm will bring along latest technology, India will be able to make use it. This would definitely suffice the lack of test equipment and its mechanism. This concept is eventually benefitted to the startups too, as mentioned in our previous post Advantages of Make in India to StartUps.
Made in India aims to make efficient use of the country's talent and resources in manufacturing the products. This would not only help SMEs and MSMEs to products goods but also help generate employment opportunities for all; including people residing in rural areas of the nation.
Diversity between both initiatives
Bottle of coke is manufactured in India but the company is not Indian. Thus, Coke can't fall under 'Made in India' category. Haldiram chips is local Indian company brand, so it falls into 'Made in India' banner. Similarly, Khatriji drops into 'Made in India' slogan as the company is Indian-made with online recharge and bill payment services.
Make in India focuses more on foreign investors to invest for the production required in Indian manufacturing sectors. Whereas, Made in India focuses mainly on domestic product manufacturing.
Make in India is an Indian government strategy to get rid of decline is Indian manufacturing industry. While Made in India is a brand of the products built in India.
The profits made from Make in India includes share of foreign investors. But the profit received from Made in India goes in retaining Indian economy.
According to Nexia International, Make in India received significant attention from countries across the globe since its launch in September 2014. The gross FDI inflows increased by 32% to the US $64.8 billion compared to a 16% increase in 15 months before the campaign. However, there is a great need to enhance the talents of Indian youth with initiatives like setting up start-ups and skill-based education under Made in India program.
Although, both the policies seem to benefitting the Indian economy in different ways. Make in India will boost country's economy through foreign investment. Made in India in turn help the nation by being self-reliant in terms of manufacturing of products.
However, the major concern here is lack of financial resources with domestic manufacturers. These are major reasons for the compromise in the quality. If they get sufficient resources, there can be improvement in the quality. Make in India plays vital role in generating revenue in the form of FDIs, allowing the local manufacturers to become more independent. So in general, both Make in India and Made in India are interconnected. They actually help boost our country's financial economy.
So to answer to our main question, "Make in India or Made in India: What is forming the Economy?" is both the programs are must to heighten Indian economy.
Read More
Tags: impact on India's GDP, make in India, make in india benefits, make in india impact on gdp, make in india scheme, Objectives of Make in India

10

Seconds Wait for Like Page