Despite all of us knowing the concepts of E-commerce, let us just have a glance at it. E-commerce or Electronic Commerce means buying or selling the products, goods or services through Internet. So, is the name internet commerce given to it. These E-commerce activities would mean providing or participating in the online market that processes Business-to-Consumer (B2C) selling; Business-to-Business (B2B) buying or selling by gathering and using the demographic data from web contacts and social media. Some of the renowned online stores include Amazon, Flipkart, Myntra, Olx, Quikr and many more.
The rapid change in the internet infrastructure has proved to have given rise to e-commerce in India. The e-commerce has been gaining much importance across different sectors. The exponential growth in the retail sector has played vital role in strengthening the foundation of e-commerce needs. The market further cemented by agreeable government policies that include 100% foreign direct investment in B2B e-commerce.
B2C type E-commerce with some examples
Broad categories of consumer goods are sold online ranging from domestic electronic appliance to lifestyle-related goods and of course, not to forget the groceries too. Some of the luxury electronic gadgets, that are now considered the essential ones like mobiles, laptops etc. are also being sold online.
Apart from that, online travel bookings be it bus, railways, flights or hotels have also made it possible for humans to not only save their precious time but also enjoy their vacations with ease. This has resulted in sudden boom in the tourism industry. Almost all states have begun marketing their local itineraries, including their local visiting sites and food along with other packages in the tourist websites. Examples: makemytrip.com, goibibo.com, yatra.com etc.
However, consumers have not only restricted themselves with the aforementioned sites usage. There are regular purchase of apparel, accessories and fashion products done online too. The sudden steep in the e-commerce zone has not only allowed big budget brands but the local vendors also, to begin selling their products through the digital medium. The local artisans or designers, who are into the manufacturing of regular consumer needs like apparels, domestic home décor products and many more; have formed their own community. They have begun marketing the manufactured items through their own website to consumers, the consumers can have a glance at the products and then the purchases are made accordingly. Thus, they are named e-shopping platforms and the business is well generated this way. Examples: myntra.com, ajio.com etc.
Additionally, online recharge and bill payment is also another example of B2C e-commerce. Consumers are able to pay their utility bills such as electricity, broadband, landline, gas connection; together with recharges for mobiles, DTH, datacard and many more through these online medium. Consumers can browse through these website or online applications, fill the mandatory details and make the payments. Examples: khatriji.in
Well, how can we forget the food industry? Restaurant is one more to add in this zone. It is found that many of the ongoing restaurant consumers have begun opting online path for their food delivery. The menu can be seen on the respective restaurant websites; the food is ordered and received at their place in short while with free home delivery services. Some of the online delivery shopping carts have seen huge growth in business due to this service. Examples: zomato.com, swiggy.com
B2B type E-commerce with some examples
Some of the manufacturing companies rely upon raw material suppliers for generating business. For example: Automobile manufacturing firm would buy tires, glass for windscreen or rubber horses manufacturers for making the final products. If products are being sold and bought online through an internet medium then it is called B2B selling.
E-commerce to mankind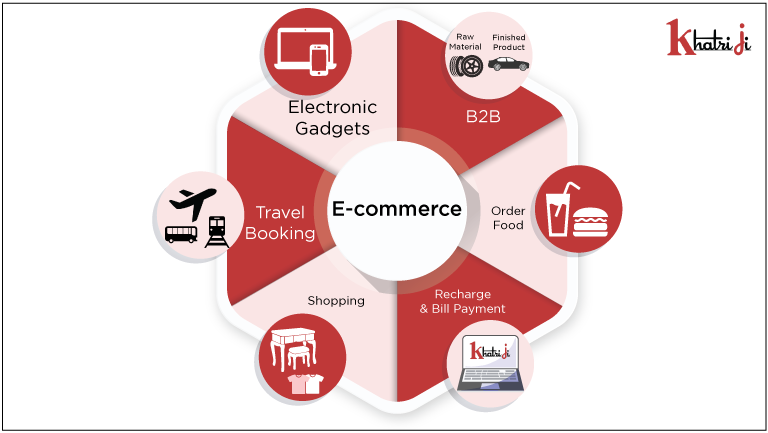 Consumers' Change in Perception and Provides Comfort
Huge mass have changed their perception of moving physically to the store, having the touch and feel experience of the item and then think of purchasing products. Majority of the population have chosen online digital platform or rather the e-commerce path as:
It not only saves time but also provides comfort.
It offers multiple payment options such as Debit card, Visa card, Master card, Net Banking
It also provides discounts and cashback
The money transaction is safe and personal data remains secured
Purchase and payment can be done from anywhere at anytime
Magnificent Business Platform
E-commerce is one of the wisest platforms for the revenue generation. Photos with better description of the product and reviews create an impact to customers, more the reviews- more is the demand for the product. The manufacturer or the buyer is able to reach out to repeat customers easily through their online subscription form and inform the customers about their new arrivals too. This indeed help in market search and attain more respondents. All these factors help in increasing the income.
Thus, the invention of e-commerce in the current era has been advantageous not only to the consumers but also to the vendors as well.
Tags: b2becommerce, b2cecommerce, buyersellermeetinghub, Ecommerce, internetcommerce, onlinebuyingandselling, revenuegeneratingplatform, significanceofecommerce

10

Seconds Wait for Like Page