Vibrant Gujarat is a biennial investors' summit held by the Government of Gujarat in Gujarat, India and is held every two years since 2003. The event is aimed at bringing together the business leaders, corporations, investors, thought leaders, policy and opinion makers. The global investor summit, held at Mahatma Mandir Convention and Exhibition Centre at Gandhinagar, is basically a platform to realize and explore business opportunities in Gujarat. It has now become the hub of business activity for a state recognized worldwide for its investor-friendly ecosystem. The summit had its 9th edition in 2019.
Gujarat has been on a herald for pulling in likely financial specialists to its flourishing mechanical area. With many feathers for accumulating achievement in various industries like Industrial Investment, Agro-Processing, Biotech-Pharma, Natural Gas and Oil, Infrastructure, Mining, Tourism, Apparels and Gems-Jewellery at Ahmedabad and sectoral sessions on Garment & Textiles and Gems & Jewellery at Surat . Just as the words "Khushboo Gujarat ki" in an advertisement by Amitabh Bachchan for Gujarat Tourism to appeal millions across the breadth of the nation, Gujarat's steady rise amongst the globally known locations for 'ease of businesses' has made the state an investment magnet. Additionally, Gujarat is one the fastest growing economy in India with number of economic strengths, having one of the longest coastlines and deep sea ports. The road conditions are also best compared to other states of India.
If this isn't sufficient introduction to Gujarat's industrial position, here are some statistical data points. Gujarat is the largest producer of cotton in the country contributing around one-third of the total output and approximately 60% of cotton exports. Being the third biggest maker of Denim around the world, Gujarat is rightly known as the 'textile state of India'. Gujarat processing 80% diamonds globally and likewise is a leader in precious stones and jewellery. Gujarat also shines with a potential to host investors. The GIFT city, houses the only International Financial Services Centre (IFSC) in the country further strengthens the state's pitch for global investment.
Centering on International participation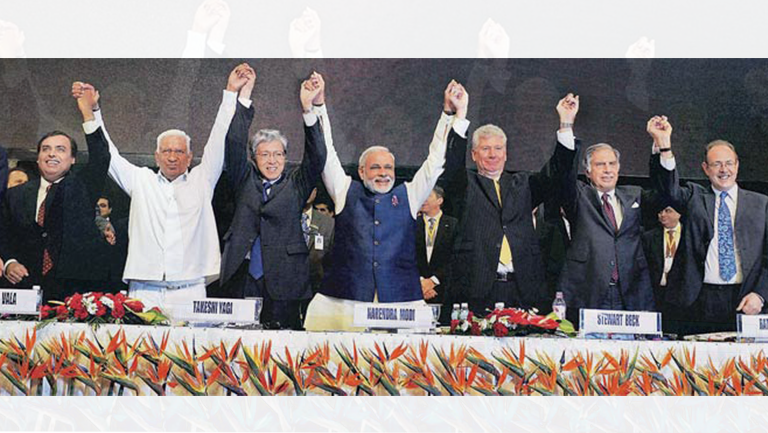 The Vibrant Gujarat Summit aims to bolster its infrastructure and redesign its policies. One of the key focus or the goal of Vibrant Gujarat Summit is to encourage attendees from different nations to enter into the strategic partnerships with India, called Memorandum of Understanding, MoU.  The biannual event has seen an exponential ascent in investments and the quantity of MoUs marked with each back to back summit.
Large conglomerates from India such as Reliance Industries chief Mukesh Ambani, Kumar Mangalam Birla of Aditya Birla Group, Ratan Tata from Tata Group, Gautam Adani from Adani Group and few organisations from abroad have announced huge investment every year and job creation plans in presence of Prime Minister Narendra Modi in India. Few among foreign companies were Australian mining giant Rio Tinto's CEO Sam Walsh, President of Uzbekistan, Shavkat Mirziyoyev; Prime Ministers of Denmark, Lars Løkke Rasmussen; Czech Republic; Andrej Babis & Malta, Dr Joseph Muscat; World Bank President Jim Yong Kim and many more from respective industries. These MoUs are the path to get updated and maintain international standards by connecting with conglomerates across the globe.
The government of Gujarat also thought of technological innovation in the state and the nation though special exhibitions on science and technology that was held at Science City in Ahmedabad in 2018, as a part of Vibrant Gujarat Summit. Around 18 international IT companies like Microsoft, IBM and other presented their futuristic technologies along with 37 Indian technology companies and startups that provided a platform to display their innovations to the IT community across the world.
Apart from Summit, Vibrant Gujarat is also known for the Trade Shows. Every year more 2000+ companies participate in this exhibition, and around 1 million visitors participate in Vibrant Gujarat. Various seminars and sessions were presided by esteemed government representatives including the ones from the above mentioned sectors.
It can be summarized that the Vibrant Gujarat has come a long way from 'Reestablishing Gujarat as an Investment Destination' in 2003 to 'connecting India to the world' in 2017.
As the Prime Minister Narendra Modi addressed in last Vibrant Summit 2019, 'India is a great opportunity for global investors", a platform that has made it possible for India to aim to be ranked among top 50 by next year.
Tags: globalinvestors, governmentofgujarat, khushboogujaratki, P.M.NarendraModi, tradeshows, vibrantgujarat, vibrantgujaratsummit

10

Seconds Wait for Like Page