In today's era, everyone wants information at their fingertips. The current fast paced life has made it difficult for people to sit, read and retrieve the information for anything related to news updates, get extra knowledge in the area of interest, data related to your competing industry to even playing games and much more. The broadcasting media is the prime factor to help in this regard, if we can think of any media ranging from TV to Radio channels and of course access to internet has even made all these more simpler.
Continuous use of smart IT gadgets provides access to internet browsing and downloading quickly. Usage of datacard has led to access internet anytime from anywhere due to its wireless transmission. Plus, the biggest advantage of datacard is that it's easy to carry while travelling or during vacations and if you have to complete your office work in those intervals too.
Just imagine that you are to prepare a presentation or to complete the official work prior you reach the office from your vacation and your datacard plan expires. You almost feel helpless when this Datacard expires especially when you are in the outskirts. Khatriji can definitely help you out here.
Khatriji provides instant data card recharge online services for Airtel, Vodafone, BSNL, Jio, Idea, MTNL. Khatriji offers its services all over India. You can have online recharging by Debit Card, Net Banking, Visa Card and Mastercard & Khatriji wallet with ease. With the money loaded in your Khatriji wallet, it will take a few seconds to make Data Card recharge.
You can instantly recharge your data card within seconds with simple steps like:
Enter your Mobile Number.
Select your Operator and Circle.
View the plan and then Enter the amount as per your needs.
You have to click "Proceed to Recharge"
If you have Khatriji gift card then you can write your gift card number and then Apply.
If you have not yet logged in then click "Login to Proceed Transaction", mention your user name and password, then click "Proceed for Payment"
Skip the above step if you are already logged in, then just press "Proceed for Payment" button.
Get your datacard recharge instantly.
Besides providing an online data card recharge facility, Khatriji also has some extra services to offer. Khatriji includes a cashback facility which is offered after every data card recharge.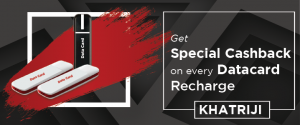 The customer is offered cashback after his/her online datacard recharge is being processed. The offered cashback will soon get credited to the Khatriji user's wallet. This cashback can be used for multiple services that are offered by Khatriji such as mobile recharge , DTH recharge and Datacard recharge.
Tags: cashback, datacardrecharge, instantrecharge, khatriji, khatrijigiftcard, khatrijiwallet, multipleservices, safepayment

10

Seconds Wait for Like Page