Despite India being one of the most progressive countries in regards to economy and technology, there are numerous challenges that the nation face while providing administrative services to every citizen.
During past years, the Indian government has begun certain initiatives, which has resulted in meeting few of these challenges and it has paved way to digitization. "Aadhaar Card", a biometric identification program was one of its kind to bring about India's digital revolution.
Number of words in combination with the word-Digital has increased in last one year. Some of them are Digital India, Digitalization, Digitization, Digital world etc. that has its impact not only in our daily life but also contributes towards national economy as well.
Let's first understand the concept of Digitization and Digitalization, though both have its own impact directly/indirectly to the Digital India Initiative.
Digitization – The action or process of digitizing; the conversion of analogue data (esp. in later use images, video, and text) into digital form.
Digitalization – The adoption or increase in use of digital or computer technology by an organization, industry, country, etc.
However, Digitalization includes Digitization. It is the Digitization that is the first step to move towards digitalization.
The current government provided a single name Digital India to all the digitization, digitalization and some other initiatives to have positive impact on the economy of the nation.
The activities majorly aimed to reduce documentation i.e.paper work and render speedy services of public sector to the citizens. This indeed will provide easy yet manageable online storage of various documents with simple usage of cloud space on the internet. This in turn can work in reducing corruption as well.
We have unknowingly been a part of Digitization since many years; some of those activities include online railway reservation, buying online air tickets or bus tickets or making online payments through credit card, debit card and so on. Slowly the nation moved towards digitalization that brought about lot many changes in the nation's economy.
Digitalization to be explained in simple language is: "No need to carry cash if the payments can be made though phone".
In fact, there are certain factors that persuade us to strictly follow digitalization in our routine life. But we do need certain elements.
Why is digitization needed?
It is the parallel economy that flourishes the main economy of the nation. One of the important reasons for parallel economy is the dependency on cash-based business, leading to corruption. This is definitely the major problem in developing nation. People avoid paying taxes to the government and they don't feel like having bank accounts and other business book that would enlighten their yearly income, this would simply mean no tax payment and increase in corruption. But with the steps like demonetization and digitalization initiatives –taxation is brought online. These actions would weed out the corruption and can help in positive progress of Indian Economy.
Digitalization in Banking Sectors
Banks are the part-and-parcel of our daily life, one need to have proper bank accounts and other documents for the same. With the increase in usage of digitalization, banks have been able to save their cost by improving the transaction process, online payment and transfers. Customers can get the benefits of ATMs, along with cashless transactions through Credit Card, Debit Cards, etc.
Earlier, it was not possible for anyone to get business loan as it involved high risk and much documentation. But today, banks have gone out of their way to adopt the latest technologies in order to boost up the customer experience.
By adopting digitalization banks have been able to give benefits of
schemes like Mudra to startups in India
mobile banking
Digitalization not only reduced the human errors but also led to increase in cashless transaction; finally leading to decrease in fake currency circulation. After demonetization in 2016, there has been tremendous growth of cashless payments. Thereby, increasing favorable growth of the national economy.
Significance of Digitalization on Indian Economy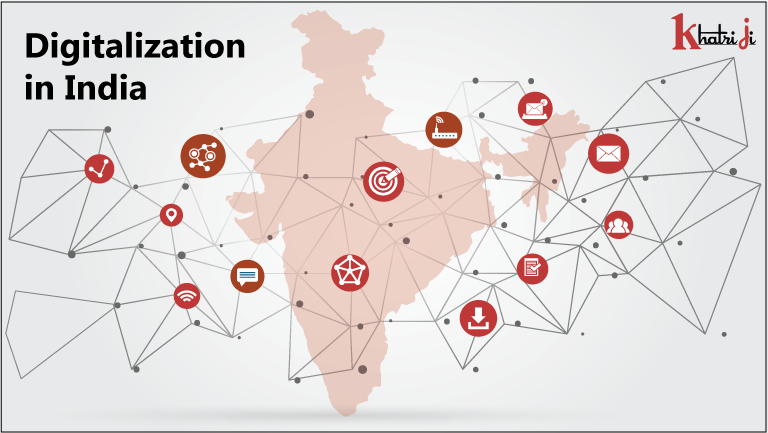 Digitalization has played significant role in prospering the Indian economy. Along with its benefits in banking sector, "Make In India" movement is the biggest example that has contributed towards the digitalization of India. New starts up by the youth have not only created job opportunities but also allowed them to go cashless and begin their business. This is more of a lesson to the youth–to follow the rules set by the government and to have no corruption system. This practice will slowly but definitely help in improving Indian economy.
With fast internet connection, the digitalization services have been easily accessible to the citizens of the country. Impact of digitalization, mainly can be seen at Income tax offices. We must see how income tax filing and income tax return have been streamlined; we do not have to stand before income tax officer to get an income tax return.
Time is not that far when digitization will completely change the phase of an Indian Economy.
Tags: cashlesstransaction, digitalindia, digitalization, digitization, economicgrowth, indianeconomy, startup

10

Seconds Wait for Like Page