When employees returned to workplace after COVID-19 pandemic, they noticed few contrast. Companies used Sensors of RFID labels to check whether employees washed or sanitized their hands on regular basis. Computer vision decided if the employees complied with mask protocols. Companies used speakers to warn people about the protocol violations. Furthermore, this collected information gave the idea on how employees behaved at work keeping these set of rules in mind. Here, we are going to discuss on the some of the latest technologies that will change the world in 2021 or technology trends COVID-19 brought.
The analysis and use of such information to drive employee is known as Internet of Behavior (IoB). As organizations not only gathers the data within the organization but also combine data from other sources and use them, the IoB will keep on influencing how organization interact with individuals. This indeed made every IT professionals realize that they need to update themselves. The current 2020-21 will constantly be learning, unlearning and relearning process(out of necessity if not desire). Here are some of the emerging technology trends that all of us should be aware of and if not, then must make an attempt to know them; mainly to update themselves.
Let's talk in details about the current technologies that will change the world in 2021 or rather 2021 future predictions
Artificial Intelligence and Machine Learning
Well, this is no more a new buzz. But Artificial Intelligence still continues to be the new technology trend due to its remarkable effects on our lives. It has made its superior impact due to ability in identifying image, speech recognition, smartphone personal assistance and much more. AI is majorly being used today and in future also, to predict service demands in hospitals or retail for better utilization of resources. It can detect change in behavioral pattern of customers, driving revenues and also to enhance personal experience.
As per Markets and Markets, the AI market will grow to a $190 billion industry by 2025 with global spending on cognitive and AI systems reaching over $57 billion in 2021. Machine Learning is also a part of AI, deployed in different industries and demands skilled professionals. Forrester predicts AI, machine learning, and automation will create 9 percent of new U.S. jobs by 2025, jobs including robot monitoring professionals, data scientists, automation specialists, and content curators, making it another new technology trend.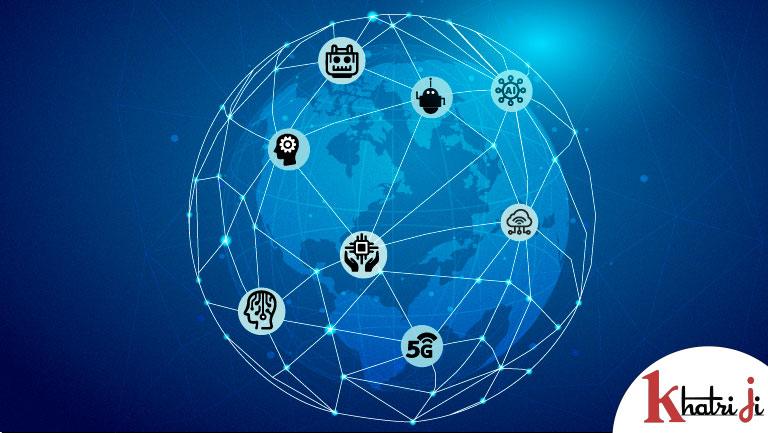 Robotic Process Automation (RPA)
Robotic Process Automation, or RPA is one more in the race. RPA is the use of software- mainly to automate some of the business process. Such activities include dealing with data, interpreting applications, reverting to emails It basically involves a repetitive task-earlier done by manpower, but now replaced through auto generation mode. Although Forrester Research estimates RPA automation will threaten the livelihood of 230 million or more knowledge workers but McKinsey finds that less than 5 percent of occupations can be totally automated, but about 60 percent can be partially automated.
Virtual Reality and Augmented Reality
 One of today's exception tech trends is the evolution of Virtual Reality (VR) and Augmented Reality (AR), and Extended Reality (ER). VR submerges the client in an environment while AR enhances their environment. Albeit this innovation pattern is utilized for gaming. It is also utilized for training purpose, just like VirtualShip, simulation software for training U.S. Navy, Army and Coast Guard ship captains.
But in 2021, we expect this technology to be further integrated in our lives. AR and VR have huge potential in training, entertainment, education, marketing, and even rehabilitation after an injury. Any of them can train doctors to do the surgery, enhance company marketing or offer museum goers. As per the tech jury, the global AR and VR market is expected to grow to $209.2 billion by 2022.
Internet of Things (IoT)
The prevalent and much talked about trend – IoT. The Internet of Things is the future, currently used in our daily required tools. Be it our home appliances, cars and much more; the device has to be connected with internet to exchange the data. Some of the latest one include Fitbits, while industrial use include customer services, medical care, business analysis and much more. You can have a glance at our recent blog on IoT in Today's World.
As per the recent Statista analysis, by 2030 around 50 billion of these IoT devices will be in use around the world, creating a massive web of interconnected devices spanning everything from smartphones to kitchen appliances.
5G
New technology trends 5G is expected to drive market growth in the coming years. After 3G and 4G technologies, 5G services willbring out lot of changes to our lives. The 5G technologies is anticipated to be used in factories for safety and traffic management, HD cameras that may improve smart grid control, and in retail stores.
Some of the telecom companies like Apple, Nokia Corp, QualComm are currently working on creating 5G applications. The 5G technology is expected to go global in 2021 with more than 50 operators offering services in about 30 countries by the end of 2021.
If you wish to be aware about the latest high tech inventions; then you will have to learn AI and machine learning fundamentals, hardware interfacing and networking. Also not to forget automation in regards to embedded systems and much more. These are some of the recent technology trend that that will rule in 2021. These were some briefs about technologies that will change the world in 2021.
Read More
Tags: 5G, artificial-intelligence, Internet of Things, machine learning, technologies of 2021, technology trend 2021 gartener, technology trends 2021 mckinsey

10

Seconds Wait for Like Page