Diwali 2020 is here, yet worldwide pandemic of the novel Covid has repressed the vibe and energy of the festival celebration. The pandemic has not only engulfed our lives and livelihood but also the joy of celebrating the festival.
Don't worry, keep your excitement intact as you can still have lot of fun indoors as well. In order to ensure safety of the people, Indian government has issued some guidelines on how to celebrate Diwali this year. Though these guidelines may appear rules to many but it is essential for the security purpose. People with young kids or old parent must avoid stepping out of their home and avoid social gathering not only for their own sake but to prevent their loved ones from getting infected with Covid-19.
However, it is the festival that every Indian looks forward to, spending quality time friends and family, most of the families spread in various location make sure to come back home and celebrate together. Apart from following the rituals that comes along with Diwali celebration such as worshipping Goddess Laxmi, lighting up the house with diya, wearing traditional attires, having home-cooked food; there is fun involved too like playing games, visiting extended family, singing and dancing, huge laughter and so on…
But with the fear of Covid-19 around, mostly all the late gatherings and events have been cancelled. The specialists have suggested to remain inside and follow the strict guidelines given by the government.
With the Festival of Light- just around the corner, this blog narrates couple of tips on the most proficient method to have safe Diwali festival this year, keeping in mind the physical distance and hygiene despite the COVID-19 outbreak. Also the ways to still have great time this Diwali!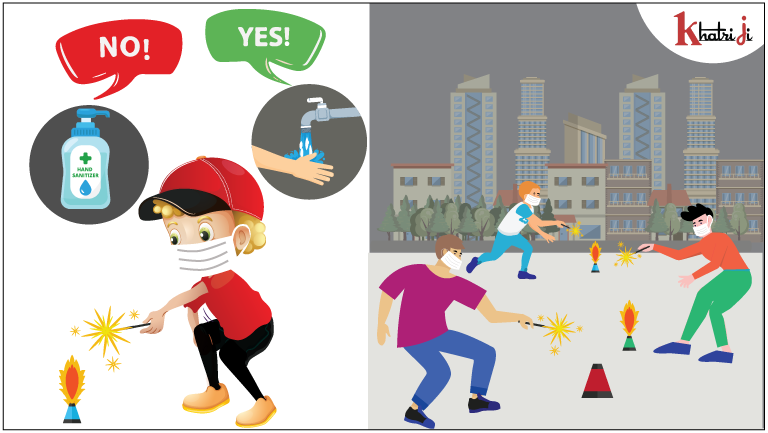 Don't sanitize your hands prior lighting Diya or busting crackers
Refrain from sanitizing your hands before lighting diyas, candles and also bursting crackers. Since these sanitizers are alcohol based, they are inflammable and can immediately catch fire. It is highly recommended by the experts to wash hands with water or soap before and after doing anything that includes lighting fire.
Make sure the sanitizer is away from fire place
Sanitizer bottles are common in houses to avoid the germs during COVID-19 pandemic. But most of the sanitizers are liquor based, they ignite fire and may create health hazards. Therefore, keep your sanitizer bottles on a safe place or away while bursting fire crackers.
Use water
Rather than carrying sanitizers everywhere, consider carrying water and paper soap. Since they are more secure and you can undoubtedly wash your hands without the risk of bursting into flames.
Keep physical distancing
Despite festival being all about togetherness and creating bonds, make sure physical distance is maintained while meeting people or bursting fire-crackers. It is safe on your part to stay indoors and maintain distance.
Yes indeed, festival is about fortifying bonds but this festive season, try to avoid meeting people physically. It is suggested that you observe Diwali staying indoors mostly. If there are chances of not being able to avoid, greet friends and relatives without physical contact.
Don't forget your mask 
It is a responsible step on our side to take mandatory precautions. Wearing mask is one of the preventive measures to stay safe in this COVID pandemic. Do not forget to cover your nose and mouth every time you step out of the house to protect yourself from getting infected.
Though with all such Don't stated above, there is a still a place to eat, drink and make merry too; it is just the matter of certain limitations. Despite the gloom, there is a visible buzz in the bazaars and lit-up markets with mask-based crowd; though traders say the pick-up in sales is below expectation. There are enormous celebrations that can yet be done while remaining at home as well.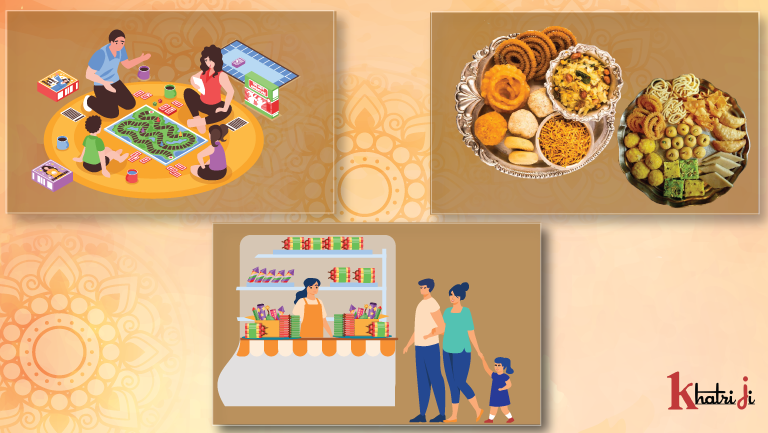 Plan indoor celebrations
People have begun buying products from local artisans as a part of their Contribution of their contribution to Support SMEs and also to decor their home during the festival. PM Modi's speech on Vocal for Local have made huge impact on the mass that there is a hope to make India reach top leading nation of the world soon.
Relish homemade food
Diwali is not all about home décor or outside trip, vacation to many. Actually, it is the festival to be with family, relish the homemade food prepared by mothers. It is festival to create wonderful bond and memories. This homemade food would vary from namkeen to sweets and much more. Though, the festival has always been a mini vacation to working lots despite all the rituals, it may not be possible this time for many to go home due to pandemic spread across the globe. They can find innovative ideas to décor their home, cook food for loved ones instead of ordering from outside.
Go digital or play indoor games
One can definitely plan to watch movies or TV programs with family. You don't need to make recharge or bill payment of your datacard and DTH in advance with the fear that what if your plan expires during holidays and all the service providers office would remain closed. You can just make online recharge or do an online bill payment through some of the leading digital platforms like Empire Calls  and Khatriji instantly even while you are at home and enjoy seamless internet or TV without any interruption. You can plays indoor games like cards, carom, hide-and-seek and few other games with kids and relatives. This would not only be fun but can also create good vibes among one another. Going online is also another option, you can opt to play online rummy, ludo, chess with your cousins, no matter where they are located.
Plan a gathering with limited people
The circumstances are such that we must not organize huge parties, instead can think of gathering with limited people. You can light up your home to create an ambience. Get the home décor products sanitized and have potluck or homemade food. So, let the party begin while enjoying the hearty meal with your near and dear ones, wearing masks for safety purpose.
With all such nitty gritty, aren't you excited to binge eating desi ghee ke ladoo, wearing ethnic outfits, singing aarti, lighting the home with tons of lights, making rangoli, thanking God for the strengthening us to stay healthy, enjoy good days with lots and lots of cheers, laughter and so on despite the pandemic!!!
Lift your spirit for the best Diwali, you ever had so far…
Let's all call upon this Festival of Light-Diwali with great happiness.
Tags: Covid-19Diwali, Covid-friendlyDiwali, Diwali2020, Empire Calls, FesitvalofLight, fire-crackers, khatriji, physicaldistance, sanitizeyourhands

10

Seconds Wait for Like Page