How Does QR Code Works
Many of you will see a crisscross black and white crisscross square shape on shops, cards, internet, TV, internet, posters etc. This is called QR Code, widely used at the time of making payments. Most of these QR codes are black and white, however, it can also be customized as per the customer's needs.
What is QR Code
QR Code – Quick Response is type of matrix dimensional barcode, with black squares arranged in grid having white background and three squared formed on its edge. This code contains data for a locator, identifier or a tracker that indicated to a website or an application. Thus, this data is scanned and the identity is made. But for scanning the data, the person needs to have QR Scanner in his phone.
Importance of QR Code
QR code was first designed in 1994 for the automotive industry in Japan. But it is used with much broader perspective such as commercial tracking applications and convenience based Apps for mobile phone users. QR codes are majorly used in marketing as it can be linked to any website of Facebook page, videos that give additional information about a product or a service to potential customers. By clicking or scanning the QR code, you would be able to get through the designated page. Companies that make the app also connect their software to it so that people can easily download the app and the information regarding prize of the items can also be attached through it. Thus, QR code can be used for Google Map location, on business card.
Difference between QR Code and Barcode
Major difference between the QR Code and Barcode can easily be found by just viewing it.
There are vertical lines seen in the barcodes while QR code appears in square box.
Barcode can only be scanned from one direction while QR Codes can be scanned from any direction.
Barcode can store up to 30 numbers while QR codes can store up to 7089 numbers.
How to Scan QR Code with Your Smartphone
In order to scan the QR Code, it is necessary to have image capturing device in the smart phone.Select the Scanner that is suitable for your device.
Install this Scanner App in your phone.
Place phone near to the device or place you want to scan, open the scanner app from your phone. Scan the QR code.
The information stored in the QR Code is soon displayed on your phone.
How QR Code works & Scanned in Your Smartphone
To use the QR code, it is necessary to have an image capturing device in your Smart Phone. Select the scanner that best suits you according to the rating.
After this you have to download Scanner App from your phone's Play Store. Now install this app in the phone.
Now open this app to use it and point the given QR Code with the camera of the mobile phone. The rest of the scanning work is done by your Scanner App itself.
The QR Code gets decoded automatically. That is, whatever information is stored in a QR, it will appear before you.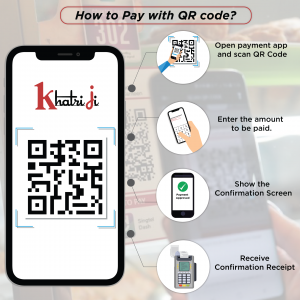 How to pay with QR Code?
As soon as you download and open the e-payment app in your phone, there is an inbuilt QR code scanner to capture the QR shown by the merchant.
Scan this QR code with a mobile camera and confirm the name prior filing in the balance to the merchant.
Show the amount to the merchant before paying and then pay. As soon the payment is done, show the confirmation screen that is displayed to the merchant, so that he receives the payment with the receipt.
Where can QR Codes be placed?
QR codes can be printed on newspapers, brochures, magazines, leaflets, business cards, shopping carts and many other e-buying routine products apps.
Business Benefits of QR Code
Since QR codes are far more than the digital barcode, it can store more information. They can get creative in terms of image and video, its effectiveness can be measured easily. Moreover, these QR codes can be connected online as well as offline. All of these aspects are very beneficial for customer to retrieve information about anything at a glance.
Ways to identify original and fake products through QR code
This can be identified when you place any QR reading App on the QR code of the product. The scanned QR code will display the product's information on your device. Now, you can compare the product you have with that of the one displayed on your phone. This is how the fake and original can be identified.
Disadvantage of QR Code
Despite having advantages of QR Code, it has some disadvantages too. Hackers can swiftly get into your mobile with QR codes. Thus, from the security point of view, one has to take precautions while using QR codes.
Also Read:
What is One Time Password (OTP)?
khatriji.in New Postpaid Offer: Now Get Benefit On The Purchase Of The Product Too
13 Ways To Protect Your Mobile Wallet From Fraud
5G Technology: The High Speed Internet Service
Tags: App, barcode, Benefits of QR Code, Mobile phone, product, QR Code, qr code scanner, scanner, smart phone

10

Seconds Wait for Like Page