Hello friends! Many of our important works get stuck due to lack of electricity. Therefore, it is considered important for productive India to keep the electricity and internet facilities operational at all times.
If you are going to make electricity payment online for the first time then you must have a smartphone. Always keep electricity bill with you. You should also know what is the name of your state's electricity bill company. Let us learn how to pay electricity bill through Khatriji.
How to pay electricity bill or Bijli bill online bill from Khatriji
Step 1
To pay the bill, you first open Khatriji App or Khatriji website, and login to it. If you do not have a Khatriji account, then according to the instructions on the screen, complete all the steps step by step. Your registration will be done easily.
Step 2
Now click on the Electricity menu.
Step 3
On clicking on the Electricity menu, a new page of electric bill recharge opens in front of you.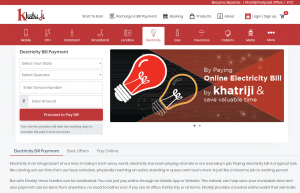 Step 4
In the Select Your State field, you have to select your state.
Step 5
You select your operator at the place of select operator. For example, if you live in a city of Gujarat, you will get the option to select Uttar Gujarat, Torrent, Madhya Gujarat, Paschim Gujarat, Dakshin Gujarat. From here you choose your Electric City board.
Step 6
Go to the Enter Service Number field and enter your bill payment number.
Step 7
Enter your Amount numbers by going to the Enter Amount field.
Step 8
After that, you press the Continue button to proceed.
Step 9
As you proceed, a new page opens in front of you. You get the details to confirm the payment of the current month's bill.
Step 10
After confirming from here, you get the option of Choose a payment method.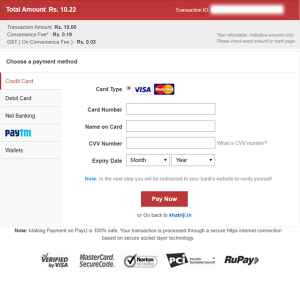 From here, you can pay the amount of your electricity bill. Khatriji gives you the option of Credit Card, Debit Card, Net Banking, PayTm, and Wallets .
If you have enough money in your Khatriji wallet, then feel free to complete the bill payment. Otherwise, pay whatever payment option is favorable to you. .
Benefits of Electricity bill payment from Khatriji
1. Khatriji app, and website is easy to use.
2. One does not have to stand in line to pay the bill.
3. Khatriji's portal is an easy, fast, and safe way of payment.
4. You do not have to pay any extra tax.
5. Facility is available 24/7.
Keep in mind
Keep your electricity bill with you while making electricity bill payment online. It is necessary to add Customer Number while doing Bill Pay. Do not make any mistake in entering the customer number. Due to one mistake, money can go to another's account. Neither the bill will be deposited nor will you be able to do anything. In addition, using Public Wifi while making Online Electricity Bill Payment can be risky.
If you are unable to pay your electricity bill due to the busy schedule, then make payment online immediately.
If you want more facility in Khatriji portal, then please give us your suggestion as well. We would be pleased with your suggestion.
Read this also
Tags: Bijli bill, electricity, electricity bill, electricity payment online, gujarat, India, khatriji, Khatriji App, Khatriji website, Online Electricity Bill Payment, online payment, smartphone, Torrent

10

Seconds Wait for Like Page