With the time, the manner of shopping for things has also changed. The craze of online shopping is constantly increasing. People are now increasingly using online banking and mobile wallets to save time, recharge things and pay bills. At the same time, with a view to clear and secure transactions of money, mobile companies are appealing to complete the basic KYC processes i.e. document verification. Therefore, it is also necessary to update the KYC on the payment app through which you send money daily. This process is very simple, which is being discussed here. Read in detail.
What is KYC
KYC stands for Know Your Customer. Banks and financial companies use photo and address proof for KYC to verify the identity and address of customers. This gives a complete idea about the customer. With these documents you get complete information about the customer's place of residence and background.
Some important things about KYC
Where KYC is necessary?
KYC form is required in bank account, loan, fixed deposit, credit card, insurance, mutual fund account, lockers, online transactions, stock market and gold investment. If you do not fill your KYC form, the bank may refuse to open your account.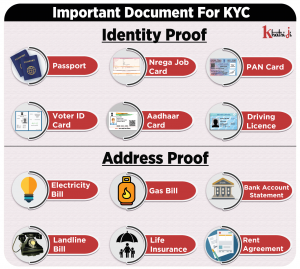 Documents required for KYC
If you remember, you used to earlier submit PAN card for your ID and Election Card or electricity bill for address proof. However, now 6 types of documents are valid as proof of identity of the person. Things like PAN card, passport, driving license, NRGS card, voter ID card, and Aadhaar card are mandatory for verification. If it also contains address details, proof of that will also be sought. The Aadhaar card is the most important in these. The reason is that it includes both your ID and address.
What proof can I give regarding address proof
Consumer bills such as electricity or telephone bills, re-filling bills, passports, latest bank account statements can be used for address proof. If you are not able to provide any definite proof regarding your place of residence, then other legal documents need to be provided.
Why KYC is important
To ensure your identity, the bank may periodically ask for a KYC document to ensure your identity. This helps in preventing bank fraud.
Benefits of KYC
According to Khatriji, when you open your bank account or buy a new SIM, your ID and address are asked through KYC. This provides protection from criminal elements. Fake identity of wrongdoing and those who cheat the people by creating fake accounts could be prevented to a large extent. The good thing is that it has helped the banks to understand their customers easily.
Also Read:
Tags: aadhaar card, address proof, bank, bank fraud, electricity bill, identity, know your customer, kyc, NRGS card, online service, online shopping, PAN card, passport, SIM, telephone bills, voter ID card

10

Seconds Wait for Like Page