With the continuous innovation in this fast-paced life, the shopping style of customer has also changed. The online shopping craze has sudden seen steep rise. Similarly, people have begun using online banking and mobile wallets to recharge along with paying bills of their regular amenities.
But at the same time for secure money transaction, mobile companies are appealing to complete the basic KYC processes i.e. the process of verification of the identity of the customers and clients either before or during the start of doing business with them. Thus, it is essential to update the KYC on the payment mode through which money can be sent or transferred on regular basis.
Here, we are going to talk everything about KYC, its necessity and benefits
What is KYC?
KYC means to Know-Your-Customer. It is a kind of customer identification process that is done by banks, financial institutes and mutual funds. These companies would use the photo and address proof for KYC in order to verify the identity and address of the customers. This indeed will give complete information about the customer.
Where is KYC needed & Why it is important
KYC form is required in bank account, loan, fixed deposit, credit card, insurance, mutual fund account, lockers, online transactions, stock market and gold investment. If you do not fill your KYC form, the bank may refuse to open your account.
On the other hand, it is basically a precautionary measure against the illegal activities like corruption, money laundering or bribery. It in fact helps the government to keep the track of such activities or suspect a person beforehand.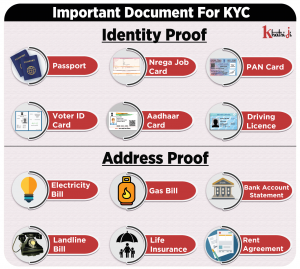 Documents required for KYC
There was a time where PAN Card was needed for your ID and Election Card or Electricity Bill for you address proof. Nowadays, there are 6 different types of document that are considered valid as an identity proof such as PAN Card, Passport, Driving license, NRGS card, Voter ID Card, and Aadhaar card are mandatory for verification. Out of all the six ID proof, Aadhaar Card is must for person's identification  as it includes both your ID as well as address proof.
Proofs needed for the Address Proof
A person can provide electricity telephone bill, passports, latest bank account statements. If the person is unable to provide any significant proof of his residence, then other legal document are required to be submitted as asked by the government bodies.
Benefits of KYC
KYC is needed when you open a bank account or buy a new SIM. Your ID and address proof are asked through KYC. This helps the government bodies a shield or a protection from criminals or fake identities.
Also Read:
Tags: aadhaar card, address proof, bank, bank fraud, electricity bill, identity, know your customer, kyc, NRGS card, online service, online shopping, PAN card, passport, SIM, telephone bills, voter ID card

10

Seconds Wait for Like Page