We are now surviving and going through rough patch currently. The COVID-19 pandemic has brought about lot many changes in the business and much more-forever. The worldwide payment method has seen resilient changes during the pandemic. The general public yet continues to trust the payment system and there seem no significant blackouts of core infrastructure reported so far. But living in pandemic situation, has put its force on many industry, one of which is the digital payment area. Let's see the impact of the covid-19 outbreak on digital payments in India.
The greatest changes for payment providers because of the pandemic include a reduction in revenues, loans and customer service teams. Complete payment volumes have shrunk due to decrease in usage and trade. For the time being, this will constrain payments providers to roll out on model improvements, likely focusing on more noteworthy adaptability and new momentary objectives.
The long-term impact of the covid-19 outbreak on digital payments are likely to be even greater. Below are some examples of how covid-19 is impacting the payment options.
Global Bent Towards Digital Payment After Covid-19
A solid push for going cashless
After the World Health Organization's warning in March 2020, that banknote may spread corona virus. It recommended that using contactless payments is the only possibility to help stop spreading the virus. This led almost all the retailer to close their shutters and sell exclusively through online orders. There were many other business to adopt contactless payments eventually, giving rise to growth of digital payments in India. Empire Calls is one such online option that led people to make cashless payment through its Payout Services. However, it is unlikely that this incident may end the use of cash everywhere, in the long run.
Surge in eCommerce and digital payment aspect
Since people remained indoors during Covid-19, the expected consequences were the increased screen time and online shopping. Amazon – being one of the leading eCommerce players in the nation and the world said that people rely on them more to keep up with social distancing and self-quarantine efforts. Earlier, people who preferred to touch and feel the product purchases; are now diverting themselves in online shopping.  According to Fintech platform Razorplay in June 2020, percentage of digital transactions in India have rebounded by 23 per cent. As per RBI report, the share of transactions in the total volume of non-cash retail digital payments in India increased to 97.0 per cent during 2019-20, compared 95.4 per cent that of 2018, giving rise to sudden hike in digital payment statistics in India.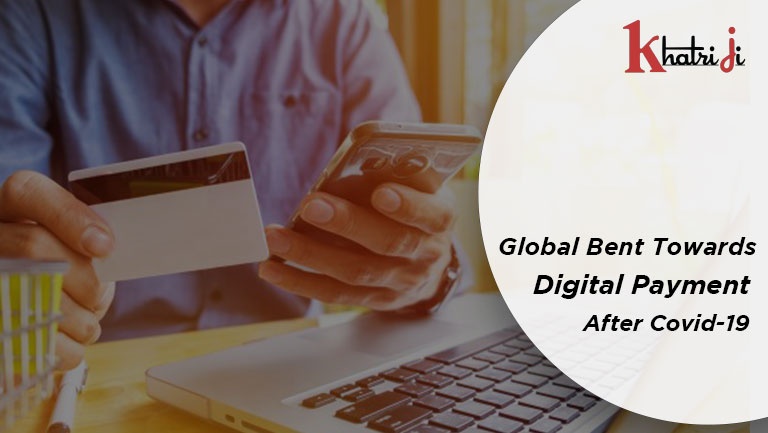 Advantage of digital payment
Cash payment is pretty old, when it comes to consumers being concerned about the health risks and exchanging cash, digital payment is not a surprise but the better option. The fast-paced current life allow us to look up for convenience and easy accessibility, digital payment have been useful in this regard. This has given rise to eCommerce portal in many ways where people can shop, pay bills as well. Khatriji is one such online portal with recharge and bill payment facility; the user can make online recharge of mobile, DTH and datacard, make the bill payment for landline, broadband, electricity, gas pipeline and insurance premium as well.
Data security
The digital payment method was a boon to people during pandemic, where everyone could easily pay online due to its contactless payment feature, plus, there is complete security related to transaction. All your personal details like email id, passwords, debit card number, credit card number, date of birth remains confidential. Thus, you can rely on digital transactional method for the payment process. In fact, digital transaction are more secure than the traditional ones as there are secured payment gateways despite the multiple payment options.
Growth of digital wallet
Few eCommerce have been providing digital wallet offers to the customers, which is nothing but a software-based system that securely stores users' payment information and passwords for numerous payment methods and websites. One can easily purchase with near-field communications technology by using digital wallet. Digital wallets like Google Pay, Paytm, Phone Pe, Amazon Pay allow a payment to be made without even touching a card to a terminal or entering a PIN. These types of digital payments can help us to maintain social distancing and make contactless payment.
Refund or cashback by digital platform
The consistence approach towards the digital platform is also because of the cashback and refund policy it provides. Some of the online platform offer cashback services on their product purchase, like Khatriji offering cashback on every mobile recharge and DTH recharge. Similarly, some online platform also has refund policy with certain terms and condition. But, these features are the major reason for the mass to move towards online mediums.
The overall impact of COVID-19 will be there for quite a long time—if not years. The worldwide economy may look totally different when we get back to "normal". The installments business will have a pivotal role in revamping the economy.
There could be no greater time than the present to put resources in digital payment solutions. "COVID-19's once-in-a-generation boost for digital solutions is pushing the payments market into a new era. Without a question, this is a major turning point", says Nigel Green, the CEO of Zurich's deVere financial consulting group.
In nutshell, we could see huge impact of the covid-19 outbreak on digital payments in India. We can also foresee that it is becoming the ultimate solution for any payment.
Read More
Tags: advantage of digital payment, Covid-19, digital payment in india, growth of digital payment in india, percentage of digital transaction in india, types of digital payment

10

Seconds Wait for Like Page