Our daily life is surrounded by one of the important innovation of all time, ELECTRICITY. Starting from regular household activities to various industries such as travelling, pharma, retail and many more, the time has come where we can't live without electricity.
Majority of our routine gets stuck without electricity. Today's life does not allow us to be unproductive or being trapped in one single thing. Thus, it is essential for all of us to have the continuous flow of electricity. Now, paying the electricity bill used to be a tedious task earlier but the innovation in the digital medium has even made the life easier by paying it online and save our valuable time.
Khatriji is a one of the leading online medium from where electricity bill can be paid online through its website. The user can pay the electricity bill with Credit Card, Visa Card, MasterCard, and Net banking or directly through the Khatriji wallet as per the convenience.
Here, we are going to talk about the reason to choose Khatriji for making online electricity bill payment, how to pay through Khatriji and also its benefits.
You just have to follow these simple steps for your Electricity Bill Payment: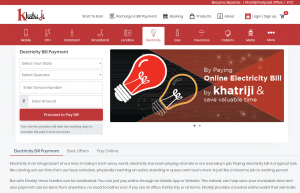 Select your state
Select your Electricity Board and Choose your City.
Enter your Service Number
Enter the Amount mentioned in the bill.
Click on "Proceed to Pay Bill" Button.
The new page will be opened where in you can confirm your bill payment details. But if you have a gift card then write in the gift card number and then apply.
If you have not yet logged in then press "Login to Proceed Transaction", mention the username and password, then click "Proceed for Payment".
Skip the above step if you are already logged in, then just press "Proceed for Payment" button. Khatriji provides you different kind of payment option to choose from such as Credit Card, Debit Card, Net Banking, PayTm.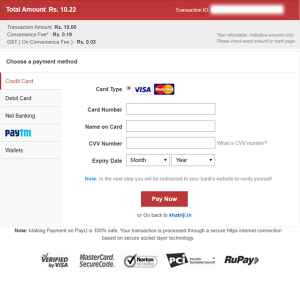 You can also use your Khatriji wallet amount for the same.
Point to Remember: Your service provider will take two working days to consider the bill paid in their accounts.
Benefits of Electricity bill payment from Khatriji:
Khatriji's website is easy to use
Khatriji's portal is safe and secure path for the online payment
There are no additional charges for the online payment.
The online facility is available 24/7.
Read this also
Tags: Bijli bill, electricity, electricity bill, electricity payment online, gujarat, India, khatriji, Khatriji App, Khatriji website, Online Electricity Bill Payment, online payment, smartphone, Torrent

10

Seconds Wait for Like Page