India is one of the world's largest youth populated country with more than 75% of the citizens under the age of 45. This enables India as one of the potential markets for online gaming in terms of volume. Over the last couple of years, the Indian population has fancied its liking for online gaming – maybe because of the increase in urbanisation or the use of smartphones.
There is a higher tendency for young ones to play online games, especially on their smartphones.  Since 60% of India's online game users are between 18-24 years of age, this makes India a prime nation for the advancement of online gaming. However, higher disposable incomes, introduction to new gaming genres, and an increase in the number of mobiles and tablet users can also be considered as the reasons for the rise of online games.
Reason for The Sudden Rise of Online Gaming Industry in India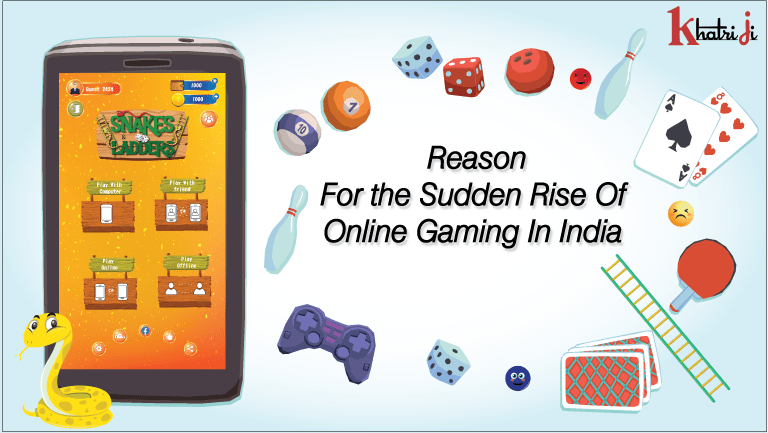 In recent years, there seems a change in behaviour, preference and lifestyles of Indian consumers due to much awareness and penetration of the internet and social media. As per the study, India has over 560 million internet users, making it one of the largest online markets in the world.
Moreover, no one could have ever thought of mobile as a platform to play games. Smartphones are replacing PCs and traditional consoles to play games – not because of their easy accessibility but also convenience. The player can play from the mobile instantly from anywhere. Most of the players are below the age of 24 years, as they have ample free time and they are more tech-savvy. However, it is important to note that gaming is being adopted amongst the older generation as well.
Lockdown was another reason for the mass number of people leaning towards online games. Even the old generation cultivated themselves to gaming zone not to kill their boredom but to utilize their time for updating themselves during the lockdown. Many land-based casinos, poker tournaments also switched themselves to online mode to make business.
Some online games provide a bundle of offers and discounts to promote themselves and also to generate more traffic. Group games also saw a sudden jump in the market during that time. People preferred friends and family games with local content for an immersive gaming experience. Multiple player games like Ludo, Rummy, Carrom Games, Hold Ball, and many more were the major games being played through various online sites during those days.
Online skill-based games or puzzle games like Wordcrush, Scrabble, Chess, Fantasy Sports, MTL, Dream11 can help to develop the mind. This lured not only parents but also allowed kids to include such intellectual games in their daily activities. While with online sports, Indian users could venture into cricket, basketball, kabbadi.
However, these games have also drawn the attention of Venture Capital and Private Equity Investors along with other users. It is observed that there is a competition seen in online cricket games, where sports fans can form their team with real-life players under specific conditions.
These kinds of fun-loving games not only can solve the learning purpose but also act as a stress buster to many users. It helps to improve the focus of a person.  So, these online games have proven to be not just the side tracker but a skill improver. Khatriji Gaming is also one such online gaming platform that includes ancient yet fun-loving board games like Snakes and Ladders. Khatriji Gaming would also come up with a couple of anxiety relief games and also some educational ones in the future.
Use of Regional Language in the Gaming Zone
Games with various users like Sudoku, Teen Patti and others; led the developers to incorporate game guides such as videos on how to play, game rules with strategies. Some Indian game developers are also creating games in multiple languages and themes to attract the local audience. They have offered an option to play games in Indian regional languages like Gujarati, Marathi, Telugu and many more. There are chances of even including famous Bollywood franchises soon.
Use of Online Digital Payment Mode in The Gaming Industry
The current e-commerce era has made us choose the digital mode for payment. Similarly, gaming companies provide various digital payment options to cater to all customers across the globe.
Over a few years, India has become a global innovation for the gaming industry. It has helped create job opportunities – a major contribution to the country's economy. At present, there are about 400 gaming startups with over 500 million users . Mobile gaming has been leading almost 85% share of the online games in India … This manifests that majority of the game developers would capitalise on smartphone users. India would also continue to grow in this industry for years to come.
Read More
Tags: Online Gaming, online gaming facts, online gaming industry, things about gaming

10

Seconds Wait for Like Page