The Internet of Things (IoT) is not a new term anymore; all of you are much familiar with it. Perhaps you have come across its application at work or read about it somewhere. Even though most of us have heard about IoT, let's just have a brief about it.
What is Internet of Things(IoT)?
Internet of Things is a network of various physical devices that are connected with software, sensors to collect and exchange data. To put it simply, IoT is a platform where devices are connected through the internet; these devices collect and exchange data with one another. With the collection of these relevant data, IoT can converse and learn from one device to another, just like human beings.
Anything related to IoT means turning it into a 'smart' object. IoT enables them to transmit data and convert the work into an automated one, without the need for manual intervention. Think of the time, when everything in your surrounding like your home, car, city and other daily needs are all connected with IoT based machines. IoT can create the world and it is still getting bigger and better. IoT based devices will bridge the gap between the physical and digital equipment together with that of society and industry, also not to forget the humans in the world.
Some of the real-life application of IoT in today's world
Needless to say, a buzz around IoT is massive. This disruptive innovation is infiltrating into different enterprises, growing new real-life applications of IoT and associating each web empowered device around us. As per study, it is found that IoT would cover 31 billion connected gadgets by 2020 and by 2025—more than 75 IoT devices billion will be connected to the web.
Yet, among the mad rush of 'newer' and 'better' IoT applications, some radiate through more than the rest.
Here are few of the IoT applications that blew our mind and some will do so in the near future.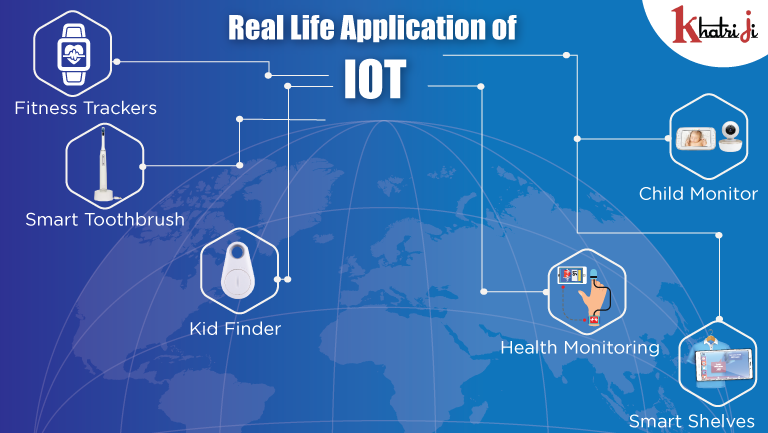 Smart Toothbrush
A smart toothbrush has high-quality sensors on its head that can capture the data related to your brushing frequency. The brush would send information on your missed spots, the pressure applied and much more by tracking all the crucial information on your smart phone and would also provide information to improve your oral health.
Fitness Trackers
Fitness Tracker is one of the best devices for all fitness freaks. This device would track all your daily activities ranging from a sleeping pattern, heart rate, workout timings, calories burnt and much more. This indeed will allow you to monitor and schedule your fitness plans.
Kid Finder
The feeling of losing your loved ones itself gives goosebumps right!!! But with the IoT-connected device ranging from the smartwatch, alarm to GPS tracker attached to your smartphone; would help you track your child's location in real-time. This would help you stay at peace when away from your kids.
Child Monitor
One more IoT enabled device for all the parents out here!!! You can monitor your toddler's activities with your smartphone from anywhere across the globe. This equipment would provide you with information about your infant's respiration data, body temperature, sleeping positions and some more.
Smart Shelves
These gadgets are being widely used in retail industries since its inceptions. With sensors or the cameras instilled on the shelf, the retailers can get updates on product details, helping them replenish when required along with alerts of the misplaced products on their smart connected devices.
Health Monitoring
Regular check-up of our kid or parents has become the necessity nowadays. Sudden change in body temperature, heartbeat, breathing, oxygen level, blood pressure etc. can be notified through these gadgets, helping you to take wise actions if needed.
Smart Refrigerators
How smart can it be to peep inside your fridge without even opening it!!! Well, this is not a fiction now!!! The sensor and camera on the refrigerator allow you to keep the track of spoiled or leftover food without opening its door.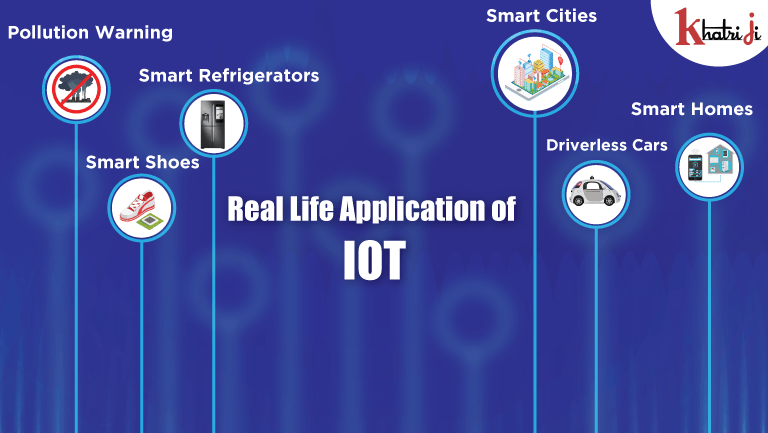 Smart Shoes
The smart shoe would allow the user to change its colour with a tap on their smartphones. The user can send a text message, call a cab, or can also monitor the footsteps, wearing these shoes on.
Pollution Warning
These are the smart air monitors that can detect the pollutants emitted from the vehicles in a particular area. Such updates can help the government bodies take necessary steps.
We talked about the recent development of IoT in today's world above and how that can change the future. But some IoT applications are currently being worked upon for better performance, they are:
Driverless Cars
One of the most futuristic uses of IoT is the driverless automatic car that can take you to the destination on their own. Such cars are equipped with sensors; internet that can sense traffic, corners, speed breakers, everything that a human can sense. Some of the companies working on such cars are Tesla, BMW, Volvo, Google and Uber. The days are not too far when we can see such cars hitting the market.
Smart Homes
This is one of the best examples of IoT that can provide you comfort as per your needs. Imagine turning on your AC while you are on your way back home from the office; just to get the perfect temperature when you reach home. Or, think of the day, when you can record your favourite show from anywhere although you are not at home so that you can watch it later. Well, Philips has come up with smart illumination software , with which you can set the colour of your room lighting and create an ambience as per your moods.
Smart Cities
Smart cities mean a blend of genuine utilization of IoT in today's world. This may incorporate smart parking, smart lighting, smart home automation, smart retail and so on in the city. Indian Prime Minister Narendra Modi has taken up an initiative to make 100 smart cities in India. This means the execution of a citizen-friendly city and to make it more sustainable.
Honestly, IoT has indeed made its presence everywhere and we are enjoying its applications; something that we never thought of, some years back. IoT whole together means better future in a much easier way.
Doesn't it sound more interesting and exciting???
Read More
Tags: how iot works, industrial internet of things, Internet of Things, iot applications, iot devices list

10

Seconds Wait for Like Page